Enjoy your visit to the beautiful Himalayan Garden & Sculpture Park
Many visitors find themselves staying for around half a day. Below you will find information to help you plan your visit.
Our Opening Times
The Himalayan Garden & Sculpture Park will re-open on 18th April - 3rd November 2024
Learn More
X
 
2024 Opening Times

18th April – 3rd November

Last admission is at 3pm and we kindly ask that all visitors leave the Park by 4pm

 
Monday
Closed on Monday (except Bank Holiday Mondays)
 
Tuesday
    10:00am – 4:00pm (closed on Tuesdays in July – October)
 
Wednesday
10:00am – 4:00pm
 
Thursday
10:00am – 4:00pm
 
Friday
10:00am – 4:00pm
 
Saturday
10:00am – 4:00pm
 
Sunday
10:00am – 4:00pm
 
 
 
 
Ticket Information
Daily Admissions must be purchased online in advance.
Learn More
Green Values
As a garden, nature and wildlife is at the heart of everything we do. Recognising the importance of the wider environment we encourage organic practises by reducing the amount of chemicals and single use plastics within the garden.
Learn more
X
Our green values in the garden are to reduce the use of chemicals and single use plastic within the garden, to support the abundant wildlife and nature we enjoy. We are doing this through various methods including:
Compost
We are going peat free in our compost, and to reduce the use of single use plastics by bulk buying our compost in larger bales.
Pots
We are phasing out single use black plastic pots, and we are now introducing bio-degradable pots for all of our nursery plants.
Pesticides
We are managing the New Woodland section of the garden in a more organic way, using less pesticides and herbicides to create a more natural habitat for pollinators. The wildflowers that have flourished under this method of gardening include foxgloves, wood sorrell and bluebells.
Wildlife
Within the garden, to support our plentiful bird life we have numerous feeders which we keep stocked. We also have a plethora of larger birds such as barn owls, tawny owls, red kites, buzzards which the garden and wider estate supports through the our rich biodiversity. Succession planting, for open and closed periods of the garden also supports pollinators all year around.
Tearoom
To continue this theme we are moving towards plastic free, compostable  and recyclable products where possible. All of our soft drinks are in  recyclable packaging and our takeaway cups, napkins, cutlery and food packaging are compostable . We have separate bins for recycling, compostable products and general waste for our tea room and refreshment trailer.
Marketing
Leaflets and marketing material has been reduced to a minimum and is printed on FSC responsibly sourced paper.
Footwear
We advise that visitors wear suitable walking footwear as our Park has steep topography in places.
Dogs
We welcome well-behaved dogs but, ask that they are kept on a lead at all times. Owners are expected to clean up after their dogs and ensure that they do not cause a nuisance to other visitors. Dogs are not allowed in the Tearoom, but there is plenty of outside seating for your use.
Accessibility
Sadly the park is not suitable for wheelchair users or people with limited mobility. We are currently fundraising to buy an all terrain Tramper mobility scooter for less able visitors to use in the garden, please help us by donating through our Just Giving page. We are continually improving our paths however, the topography of the area dictates that the paths are steep in places, with some paths having a number of steps.

Interactive Map
Hover over the icons to view the details.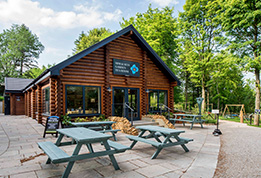 Tearoom
Open daily we serve a range of hot and cold drinks and variety of food options. From freshly prepared sandwiches to warm lunches and a delicious selection of cakes and tray bakes. We have vegetarian, vegan and gluten free options to try and accommodate all dietary requests.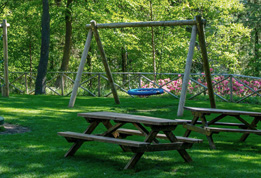 Playground
A woodland playground with climbing, swings, slides and more provides fun entertainment for children visiting the garden. Located next to the tea room this space offers a chance for the children to play while parents enjoy a refreshment.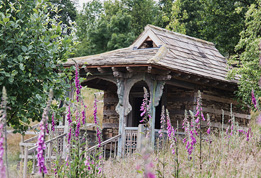 Himalayan Shelter
Reflects the stunning Kath Kuni architecture in the Himalayas. The walls were erected without any cementing mortar, using alternate courses of dry masonry and wood. The local artisans of this region are famous for their woodcarving. The original examples included on the balcony, are 80 to 100 years old.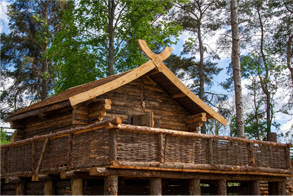 Norse Stabbur
This impressive Viking Norse Stabbur (hut) was built by a local craftsman, Paul Grainger and his team using timber from our wood. We have tried to design the hut as as closely as possible to original viking designs and it offers a tranquil spot in the new woodland with fantastic views over the rest of the garden.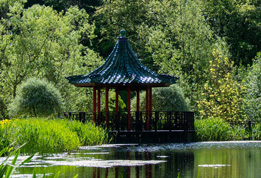 The Pagoda
Built in Bali, this decorative pagoda is a favourite feature for many visitors, with it's distinctive red legs and oriental features. A specialist team travelled from Bali to the park to assist with the on site assembly. It is complimented by its lakeside location overlooking the beautiful floating Magnolia sculpture.
Summer House
An early 20th century thatched wooden summerhouse, complete with benches and a mirror inside. It is topped by a French, early 20th century, painted copper cockerel weather vane, and is a favourite with the children who visit the garden.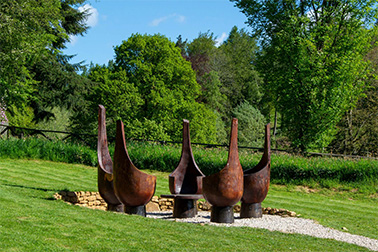 Contemplation Circle
This piece was specially commissioned from Irish artist Liam O'Neill in 2018. Each chair is made from the heartwood of Giant Redwood Tree. The chairs are designed to be a place apart, where visitors can relax, and reflect on the beautiful landscape which surrounds them.
Information Centre
The information centre allows visitors to learn all about the history of the Park and the Sculptures. There is also information on the work of the Foundation plans for propagation and conservation. We run various workshops in this space, the next being a Botanical Painting Course on 9th - 11th October.
FAQs
Is the Himalayan Garden and Sculpture Park open all year?
The Park is open from the 18th of April until the 3rd November 2024. (Tuesday-Sunday in April-June & Wednesday-Sunday in July-November, plus all Bank Holiday Mondays
Can I bring my dog?
Dogs are welcome in the garden if kept on a short lead. We do not have dogs in the Tearoom (except assistance dogs or on wet days) but there is plenty of outdoor seating for your use.
Is the Himalayan Garden and Sculpture Park accessible for wheelchair and pushchair users?
While the Tearoom, Information Centre, Buddha Garden, Plant Centre and Woodland Playground at the top of the park are wheelchair and pushchair friendly, the topography of the grounds (with steps and steep paths in places) and natural gravel paths, mean the main section of the garden is not currently accessible to wheelchair or mobility scooter users.
Can I use the Tearoom without coming into the Garden?
Sadly due to planning restrictions, we are not allowed to let visitors come just to use the Tearoom, they must also be visiting the garden. If you are unable to access the garden due to a disability but others in your party would like to, you may stay in the upper part of the garden including the Tearoom free of charge.
Do you have baby changing facilities?
There are baby changing facilities in the disabled toilet, located to the side of the Tearoom.
Can I travel to the Himalayan Garden and Sculpture Park via public transport?
It is possible to get a bus from Ripon to Grewelthorpe Village but, sadly there is no public transport after that. The Garden and Sculpture Park are a mile and a half walk from Grewelthorpe village.
Can I use my Drone at the Himalayan Garden and Sculpture Park?
In the interests of visitor safety, we do not permit the launching or landing of drones in the park unless agreed in advance in writing. For further information please see the Drone Code produced by the Civil Aviation Authority for a practical guide on how to fly your drone safely in full compliance with the law.