Food & Drink treats await in the Garden Tearoom
The Tearoom is located close to the garden entrance and offers delicious hot and cold homemade food, drinks and delicious sweet treats. Please note all purchases made while visiting must be paid for by card or contactless payment methods (we do not accept cash). Assistance dogs only allowed in the Tearoom. Last orders from the lunch menu are at 2.30pm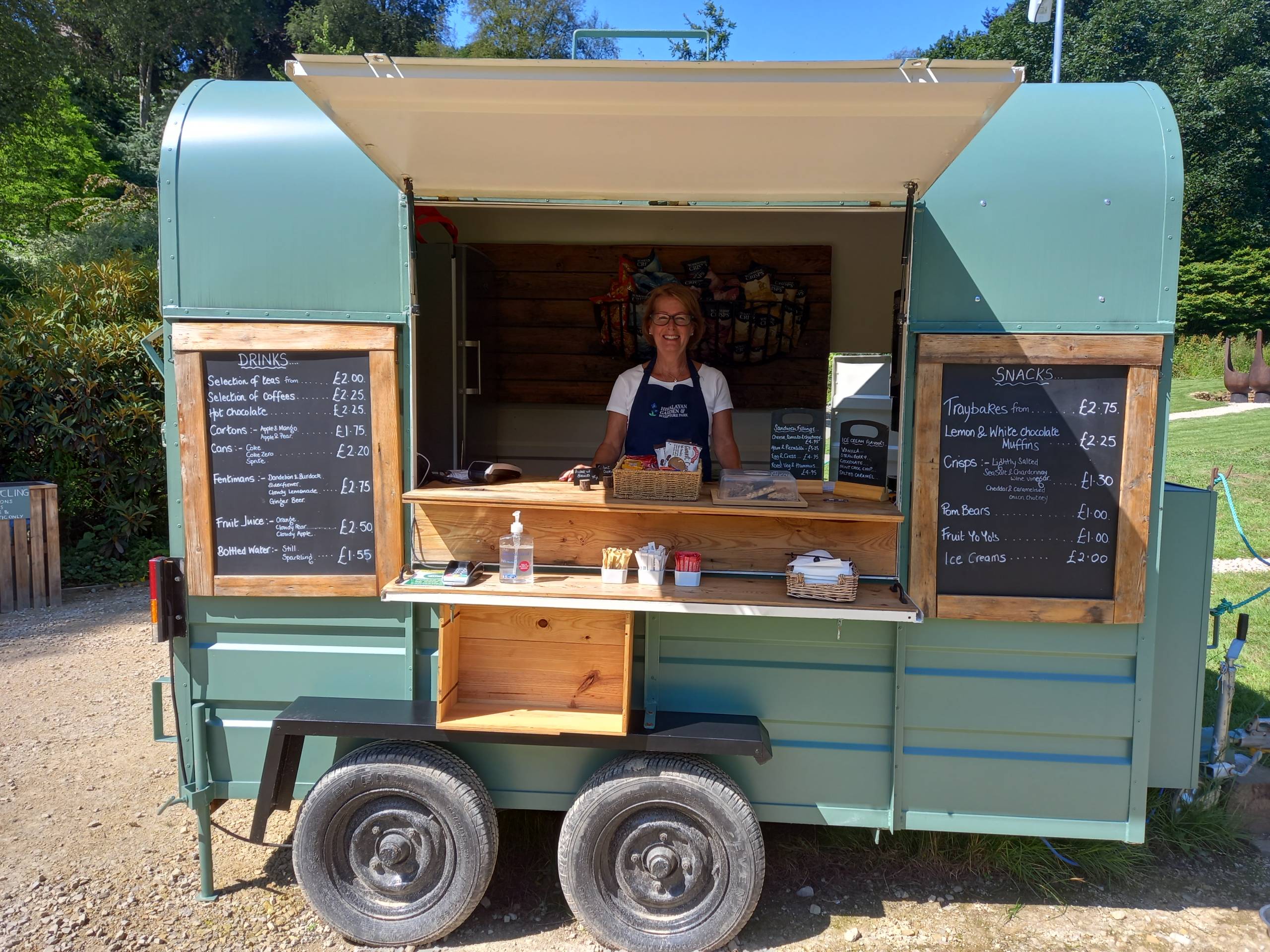 The Tearoom and Horsebox
Our Tearoom serves a range of teas, coffees and cold drinks as well as a wide variety of food options. The menu includes hot and cold food options and platters, as well as snacks and a delicious selection of cakes and tray bakes. We have vegetarian, vegan and gluten free options and try to accommodate all dietary requests.  Please note last  orders from the lunch menu are at 2.30pm
If you have any food allergies or dietary requests requirements, please let us know in when ordering your food. 
Our Horsebox serves a selection of hot and cold drinks, alongside  a variety of snacks, tempting tray bakes, muffins and local Brymor ice cream. The Horsebox is situated in the heart of the Park, near the contemplation circle. Table and Chairs are positioned nearby.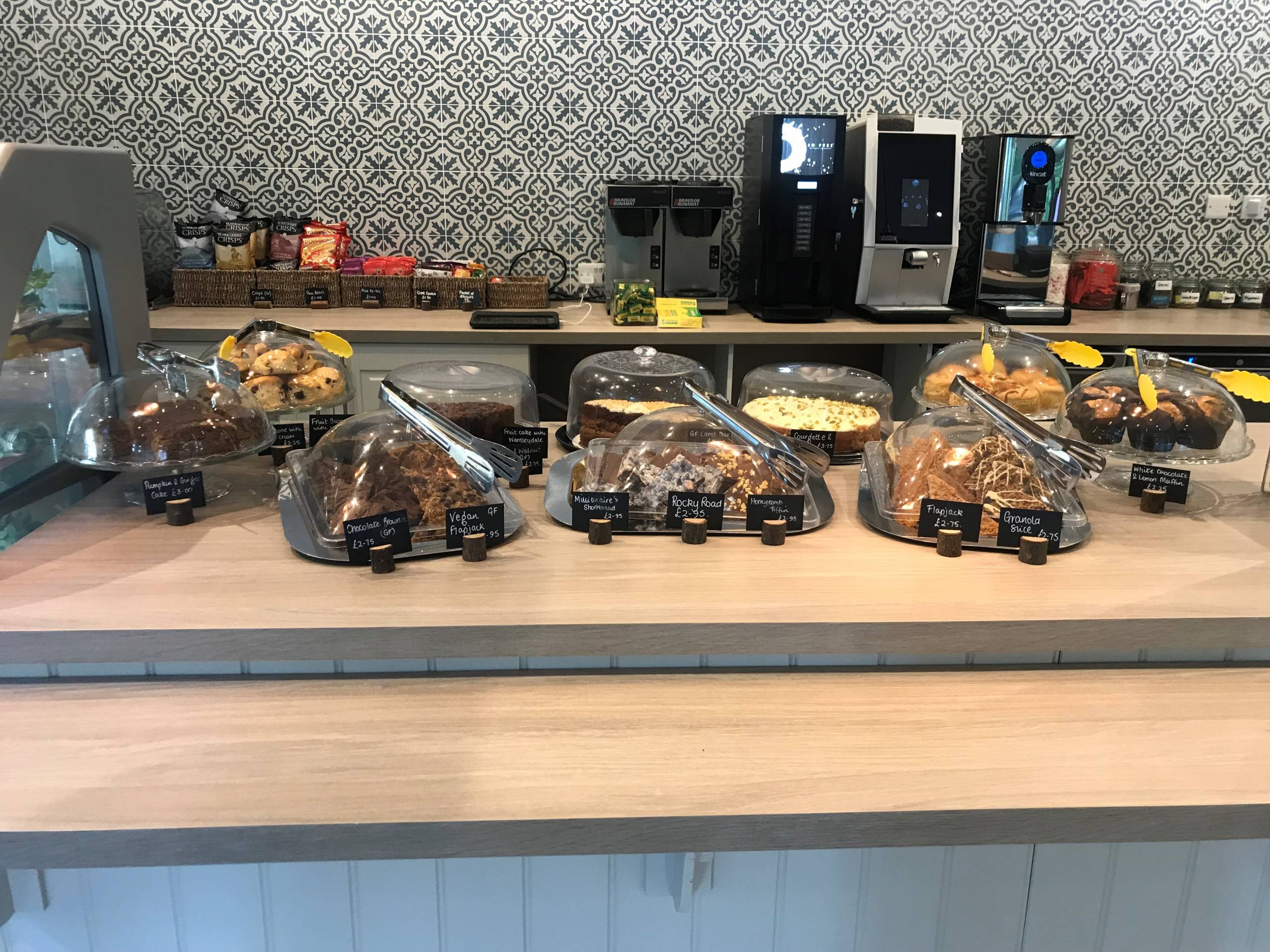 Refreshment menu
We take pride in the food we prepare and do our very best to accommodate all dietary requests. 
Our menu is constantly changing to make the most of seasonal and local produce. We have included some examples of the food we serve but, all items are subject to change and availability. We are confident that whatever you choose will be mouth-wateringly delicious.
View menu
Freshly prepared hot food options
Chef special hot sandwiches (Steak Ciabatta, Melted Cheese & Chorizo and BBQ Pulled Pork & Chicken are a few examples).
Toasted sandwiches
Jacket Potatoes with a choice of delicious  fillings  
Chef's Special Dish of the Day
Sausage Rolls with apple sauce, Cornish Pasties and Cheese & Onion Pasties   
Vegetarian soup of the day with a fresh roll and butter  
Freshly prepared cold food options
A selection of freshly prepared sandwiches 
A choice of delicious Warm Tarts served with salad
Chef's Salad Specials
Gardeners Platter
Children's Options
Lunch Bag                  
Children's  Sandwiches
Packet of Pom Bears  
YoYo 's                                     
Cakes, Scones & Traybakes (vegan and gluten free options)
Daily Cake Selection (See counter) 
Traybakes – Honeycomb Tiffin, Chocolate Brownies, Millionaire's Shortbread and Flapjacks
White chocolate and lemon Muffins
Fruit scone with Butter (optional jam and clotted cream)  
Cheese Scones
Selection of Hot and Cold Drinks
Yorkshire Tea –
Taylor's Specialty / Herbal Tea  
Coffee /Decaf/Espresso/Cappuccino/Mocha/Latte 
Taylor's Filter Coffee
Hot Chocolate 
Hot Chocolate with Whipped Cream  
Gourmet Hot Chocolate with Whipped Cream and Marshmallows  
Harrogate Water (Sparkling or Still)  
Coke/Diet Coke/Sprite 
Folkingtons Fruit Juice 
Fentiman's Soft Drinks 
Extras
Choice of Yorkshire's Brymor Dairy Ice Cream  
Bag of Yorkshire Crisps 
V) suitable for vegetarians (VG) suitable for vegans (GF) Gluten Free. We must advise that these products are handled in a multi-kitchen environment. All our food is prepared in a kitchen where nuts, cereals containing gluten & other allergens are prepared and our menu descriptions do not include all ingredients. If you have any concerns, please ask a member of staff before ordering.
 All items are subject to changes in price and availability.
X