Covid -19 Visitor Guide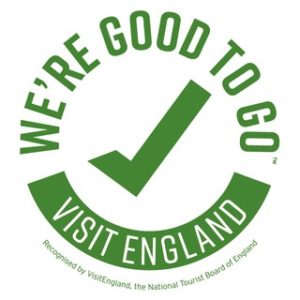 We are delighted to announce that the Himalayan Garden and Sculpture Park will reopen on the 2nd of April until October 31st October 2021 (Tuesday to Sunday from 10am to 4pm).
We are certified as part of the "We're Good To Go – Visit England Scheme" which certifies that the required actions have been implemented to welcome visitors in line with Government and Public Health Guidelines. This page and our procedures will be constantly updated in accordance with these guidelines.
The safety of our visitors, staff and volunteers is always our number one priority, and we ask all visitors to follow and keep to our social distancing rules. Visitors must pre-purchase tickets online for a specific day in advance. A new calendar booking system allows bookings throughout the 2021 season.
https://www.himalayangarden.com/visitor-information/admissions-tickets/
We are limiting visitor numbers to maintain social distancing. Season ticket holders may visit at anytime but, must also reserve a place in advance. We are unable to change tickets to a different date for weather related reasons. If you are unable to attend on the specific day booked (due to an emergency or illness) please email info@himalayangarden.com (with your confirmation order number) to arrange to visit on an alternative day.
What to expect when you arrive
To open the gardens and parkland safely, we have put important measures in place across the attraction:
We have created a separate pedestrian entry and exit for the car park to avoid crossing paths.
Social distancing measures have been set up with 2 metre-queuing points guiding visitors from the car park to the entrance.
We are also encouraging visitors to use our hand-sanitising stations on arrival and departure, and throughout their visit.
When you arrive at our Ticket Office, please scan the QR Code on your ticket. The scanner is located on a post opposite the Ticket Office. Once your ticket has been scanned  you will be able to continue into the park and garden.
Please keep left on the paths and follow the directional arrows. Observe No Entry signs.
We kindly ask that visitors wear face masks in the Tearoom.
Our toilets will remain open for visitors
Some important changes have been put in place to observe and maintain social distancing rules.
Additional Portaloo toilets have been installed in the Car Park
All toilets are now unisex, and the disabled / baby changing toilet is available to all while giving disabled priority.
Queue to left side using planters to indicate 2 metre distance.
Only one person or family group in each room.
Anti-bacterial soap is available, and we would encourage all visitors to wash their hands before and after.
Refreshments
We have taken the decision to continue operating as a Takeaway during the month of May, and we will not have any seated dining inside the Tearoom. The Government guidelines for catering from the 17th of May still greatly restrict how we can operate safely, and we will therefore continue with our safe and successful takeaway meets outdoor dining style for the next few weeks.
The Tearoom is open in a takeaway capacity, serving a selection of freshly made sandwiches, hot and cold drinks, delicious cakes, tray bakes, soup, hot and cold food options, platters and snacks to be eaten outside. We ask that masks are worn inside the Tearoom, when ordering your food.
A sheltered outdoor seated area has been created in the Buddha Garden, to allow visitors to enjoy their refreshments in any weather.
Our lovely Horsebox will be open during the weekends (Saturday and Sunday), located in the heart of the garden. Serving tea, coffee and soft drinks, as well as freshly prepared sandwiches, delicious Brymor ice cream, snacks and sweet treats, in an open, beautiful space. Tables are located nearby.
The woodland playground is open
The following has been put in place as per Government guidance to observe and maintain social distancing rules.
Use hand sanitiser before and after use

Avoid touching your face / sucking fingers

No more than 1 family group on each station at any one time

Head clockwise around the playground

Always respect social distancing rules

No food or drink in the playground area
Cleaning Schedule
We have introduced additional hourly cleaning schedule to our usual routines, particularly focusing on door handles, toilet areas, surfaces, seating areas etc. The areas used by visitors and staff are regularly fogged with a Pathogen Disinfectant at the end of the day to provide extra protection.
Staff
Our staff have been provided with personal protective equipment. We have asked our staff to wash and sanitise their hands often, especially between transactions and to clean their work stations regularly. In the event of a first aid incident on site, our trained first aiders will respond wearing the recommended personal protection equipment and using our Covid Safe First Aid Area.
Monetary Transactions
All purchases made while visiting (refreshments, plant sales and merchandise) must be paid for by card and contactless payment methods. We are not accepting cash.
Accessibility 
Sadly the park is not suitable for wheelchair users, mobility scooters or people with limited mobility. We are continually improving our paths however, the topography of the area dictates that the paths are steep in places, with some paths having a number of steps.
General
Normal terms and conditions apply to all visitors. Dogs must always be kept on a lead. Please do not bring in BBQs, picnics, light fires or use drones.
Please note: An inherent risk of exposure to COVID-19 exists in any public place where people are present. COVID-19 is an extremely contagious disease that can lead to severe illness and death. By visiting the Himalayan Garden and Sculpture Park you voluntarily assume all risks related to exposure to COVID-19
We are excited to welcome all visitors to the Himalayan Garden and Sculpture Park  and look forward to seeing you soon.