Pond Ecology Walk 21st August 6pm & Hedge Laying Training Day 2nd November 9am

Himalayan Garden and Sculpture Park Pond Walk organised by Grewelthorpe Village Hall  
To be held on the evening of Wednesday 21st August,at the Himalayan Gardens and Sculpture Park, Hutts Lane, Grewelthorpe
Led by Phil Lyth, Yorkshire Farming and Wildlife Partnership
The event will include a walk around the lakes, with stops for talk and discussion on Ponds in the landscape
How do you create a pond (and how are the ponds we look at constructed?)
What makes a good pond and what are ponds good for?
Pond management
Some wildlife ID and native plants and trees / shrubs
Followed by a question and answer session and a glass of wine, in the Norse Shelter
Cost: £3.50 – includes glass of wine / soft drink & donation to the Hutts Foundation Trust (who have kindly agreed to host the event).
Time: meet at the Himalayan Gardens and Sculpture Park car park at 6.00 pm (walk to start at 6.30 pm)
For more information or to book a place please contact Deborah Hodges:
Tel. 01765 658474 / e mail debalho@aol.com
Please be aware that there are steps & some uneven paths / steep slopes in the Gardens, so a reasonable level of mobility is required.
HEDGE LAYING TRAINING DAY  SATURDAY  2nd NOVEMBER 9.00 a.m. – 3.00 p.m.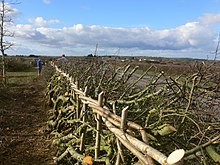 Would you like to learn the skills of Hedge Laying? Grewelthorpe Village Hall is hosting a training day that will show you how
 The day will be run by Charlie Calvert, trainer from the National Hedge Laying Society, and will be held at Hutts Farm, Grewelthorpe.
Suitable for beginners or those with some experience
Numbers limited to ensure close supervision by experienced instructor
Equipment: bring suitable clothing (warm and waterproof), sturdy boots, strong gloves or welding gauntlets and safety goggles
Some tools will be available on the day, but if you have your own loppers / saws / axes / bill hook – please bring them with you.
Refreshments: bring a picnic, or lunch can be pre-ordered at the Himalayan Garden and Sculpture Park Tearoom
Cost: approx £38 per person - depending on numbers (excluding refreshments)
For more information or to book a place contact: Judith O'Shaughnessy 01765 658728 / email judyosh@hotmail.com